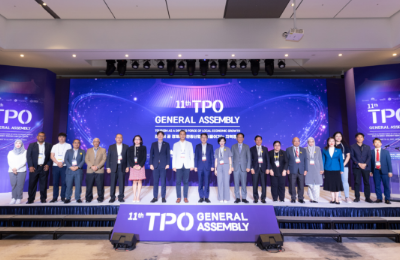 The General Assembly, every member attends, is the supreme decision-making body. It is convened every two years in the location of one of its members, and determines items proposed by the Executive Committee.
History of General Assembly
No
Host City
Date
Participants
Theme & Slogan
11th
Jeonju, Korea
September 2023
421 delegates from 31 cities in 6 Countries
Tourism as a Driving Force of Local Economic Growth
10th
Medan, North Sumatra, Indonesia
November 2022
200 delegates from 38 cities in 8 Countries
Rebuilding Tourism and Digital Promotion
9th
Busan, Korea
September 2019
700 delegates from 80 cities in 15 Countries
Common Prosperity in Tourism through Open Partnership
8th
Tongyeong, Korea
October 2017
349 delegates from 50 cities in 9 Countries
City Brand and Tourism
7th
Sanya, China
May 2015
250 delegates from 35 cities in 10 Countries
The Innovative Stratege for the New Leap of TPO
Slogan: "New Leap of TPO"
6th
Daejeon, Korea
September 2013
310 delegates from 36 cities in 8 Countries
Activiation of the regional cultural tourism industry through an international organization
Slogan: "Celebration of the 10th anniversary of TPO"
5th
Dalian, China
September 2011
200 delegates from 36 cities in 8 Countries
Crisis Management of the Tourism Industry
4th
Kota Kinabalu, Malaysia
September 2009
250 delegates from 30 cities in 8 Countries
Climate Change and Tourism
3rd
Guangzhou, China
August 2007
300 delegates from 44 cities in 8 Countries
The Stimulation of Tourism Industry through Attracting Tourism Investment
Slogan: "More Investment for Better Business"
2nd
Fukuoka, Japan
September 2005
200 delegates from 32 cities in 8 Countries
Future Collaboration to Activate TPO Joint Projects
Slogan: "Next Stage of City Network"
1st
Busan, Korea
September 2003
157 delegates from 32 cities in 8 Countries
Prosperity through Asia Pacific Cities Networks & Tourism Industry
Slogan: "Power of City Network"