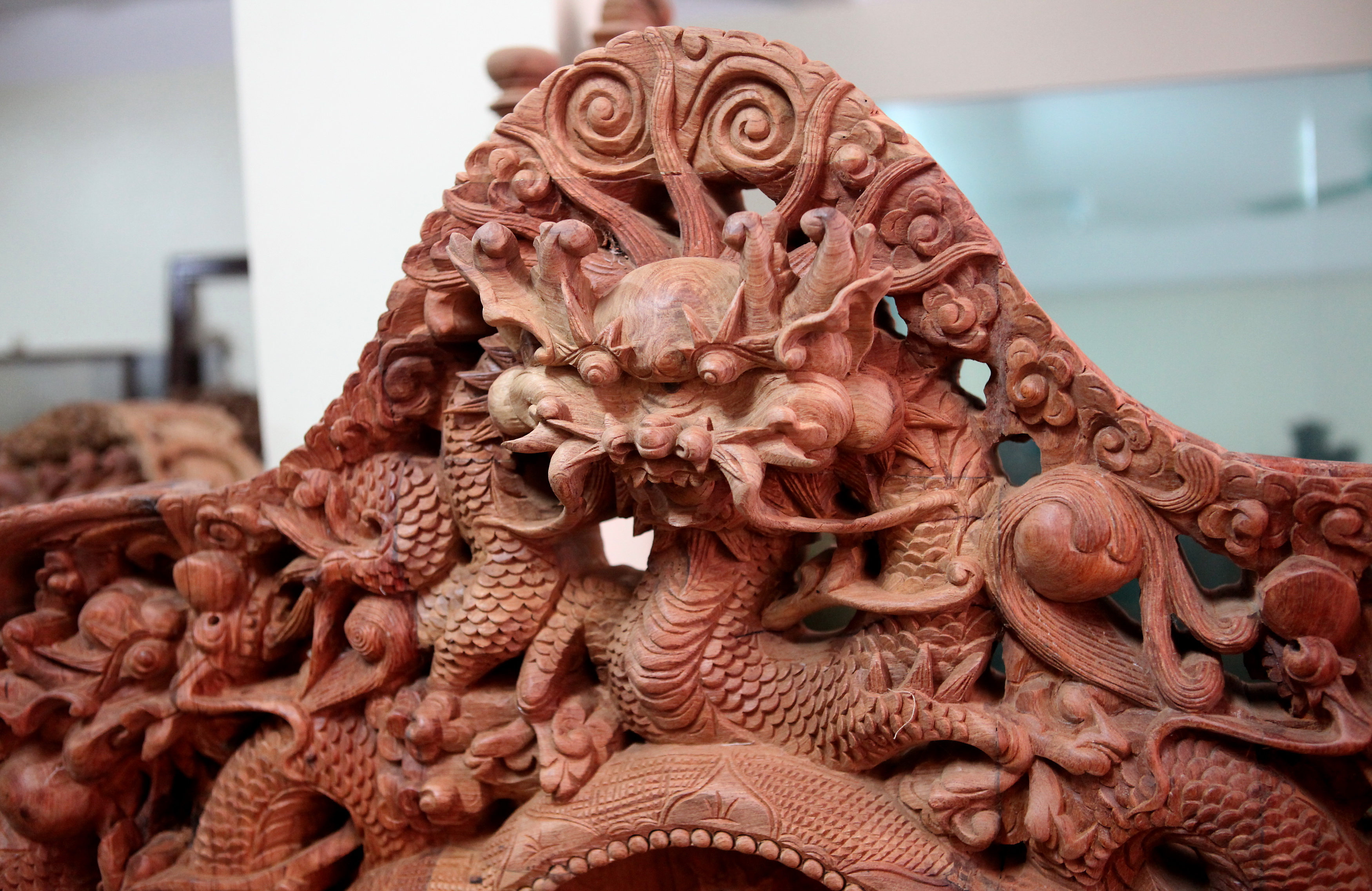 Phu Khe village in Phu Khe ward, Tu Son town is famous for storing quintessence of wood carving in Vietnam. Through many years of history, its products are evaluated by craftsmen as soft, delicate but featured in shape and line.
Phu Khe wooden handicraft village has more than 800 years old. Legend has it that, Phu Khe wooden handicraft village was formed when the need for palaces and citadels of Thang Long increased. At that time, many talented craftsmen gathered in Phu Khe to form a famous wood carving village. Wood carving products on four plants representing four seasons and four Vietnam's holy animals (dragon - unicorn - turtle – phoenix) of Phu Khe are very famous and characteristic.
Legend has it that carpentry ancestor is Mr. Lo Ban. From past to present, people still worship the ancestor on January 7th every year. The worship to the carpentry ancestor of Phu Khe craftsmen does not only show the gratefulness for the people who taught carpentry but also strengthen solidarity to preserve and develop the craft village. In Phu Khe village, people taught carpentry from generation to generation in the form of "hereditary" and there were many generations of famous craftsmen in the country and abroad.
The tools for wood carving are very simple such as saws, planers, chisels, straight chisels in different sizes. The production process is divided into three stages. The first stage called making rawly include cutting, sawing wood, sketching out shape layout. The second stage is crude carving and the third one is fine carving. Each stage has its own role in which the first stage is considered the most difficult one to create a specific feature. With the same model, same kind of wood, each craftsman made products in different value depending on skill level of craftsman.
Wood carving in Phu Khe village handed down the saying: "First tree, Second people, third cloud, fourth animal" means the most difficult in wood carving is carving trees, the second is carving the people, the third is clouds, and the fourth is animals. Famous products of Phu Khe village such as Statue, horizontal lacquered board, pair of wood panels, incense-table,…have high use value and artistic value.
Carving dragon is most outstanding in Phu Khe. Arcording to craftsmen in Phu Khe village, the most important thing in carving dragon is creating shape and pose. Because of doing this well, dragons carved by craftsmen in Phu Khe are soulful, soft, majesty and popular with many people. In here, artisans ready to teach all those who have passion with this profession, especially the artisan Nguyen Kim who made a lot of effort in reviving and developing dragon carving in Phu Khe village. He traveled to many places including China to study and then teach hundreds of talented students with love for dragon carving.
Through thousands of years of handing down, preservation and development, Phu Khe wooden handicrafts are not only popular in architectural work or on the ancestor altar in Vietnam, but also in foreign market, especially the dragon carving.
Currently, more than 2,000 households in Phu Khe village produce wooden furniture, accounting for 70% of the economic production households in the region. Wood production and trade brought stable income to people at around 7-10 million VND/month/person as well as job creation for more than 2,000 workers from neighboring areas such as Yen Phong district, Dong Anh district (Ha Noi), Bac Giang province….
In the coming time, in order to maintain and develop traditional craft villages, the local government has been actively propagating the people to promote the tradition of "hereditary" as well as continue to support domestic and foreign customers to buy goods and facilitate the supply of materials for households.
Especially, Phu Khe ward's authority enable people to borrow money for production expansion as well as praise and reward good production households and encourage the enthusiastic workers to preserve sustainable wood carving village.
On January 19th, 2016, according to the Decision No. 246/QD-BVHTTDL the Minister of of Culture, Sports and Tourism wood carving of Phu Khe village is recognized as the National Intangible Cultural Heritage, which is not only the pride for the officials and people of Phu Khe ward, but also make the handicraft's products be widely promoted and developed.